Other Simulators
From OSS Driving Simulator Wiki
Major Driving Simulator Laboratories
Stanford REVS/CHIme Lab
Professor Clifford Nass (who sadly recently passed away) headed the CHIme Lab (Communication Between Humans and Interactive Media Lab) at Stanford University and recently completed construction of the new driving simulator lab at REVS with Toyota Collaborative Safety Research Center & RTI.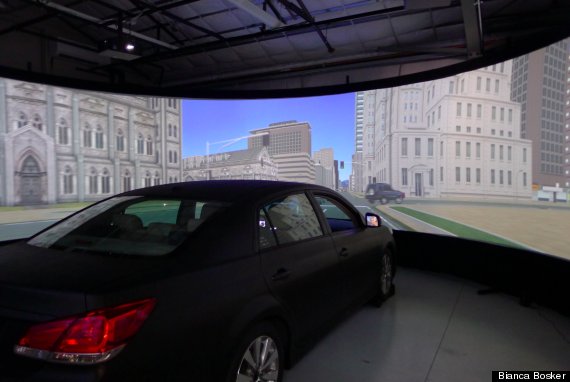 Stanford Driving Simulator sponsored by Toyota

No One Understands The Scariest, Most Dangerous Part Of A Self-Driving Car: Us 09/16/2013
"People worry about the wrong thing when it comes to the safety of autonomous cars," says Clifford Nass, a Stanford University professor and director of the Revs Program, an interdisciplinary research center. "There are going to be times where the driver has to take over. And that turns out to be by far the most dangerous and totally understudied issue."
Thrust back into control while going full-speed on the freeway, the driver might be unable to take stock of all the obstacles on the road, or she might still be expecting her computer to do something it can't. Her reaction speed might be slower than if she'd been driving all along, she might be distracted by the email she was writing or she might choose not to take over at all, leaving a confused car in command. There's also the worry that people's driving skills will rapidly deteriorate as they come to rely on their robo-chauffeurs.
"The greatest challenge to having highly automated vehicles is not technological," observes Richard Wallace, a director at the Center for Automotive Research, a non-profit research organization. "It's handling the transition when humans must take back control of the vehicle."
Inside a dark room at Stanford University's automotive research lab sits a four-week-old, $600,000 driving simulator that will be one of the first used to study how drivers trade duties with their self-driving cars and how the cars should be designed to ensure the trade-off is done safely.
Nass' biggest fear is that unless car-human collaboration is better understood, self-driving cars could prove even more dangerous than the existing, imperfect automobile technology. "One of the great ironies is that autonomous cars are much more dangerous, but not while they're being autonomous," Nass says. "They're dangerous because of the driver taking over from the situation."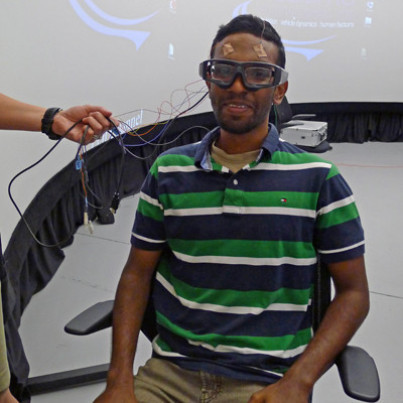 A researcher in Nass' lab is outfitted with eyetracking glasses, EEG sensors and skin conductance sensors ahead of his drive in the simulator.
"It's ironic: We have all these automated planes, but what we need is to go back to flying without automation," observes Raja Parasuraman, a psychology professor at George Mason University and director of the graduate program in human factors and applied cognition. "I could envision a similar situation in driving."
And as exciting as the technology may seem now, operating driverless cars will ultimately be extremely boring. When required to monitor autonomous systems for long periods of time, human babysitters frequently get distracted and tune out, which can lead to accidents, slowed reaction times and delays in recognizing critical issues. In 2009, two pilots operating a flight to Minneapolis from San Diego entrusted the autopilot with control of the plane, and eventually turned their attention to their laptops. They became so engrossed in their computer screens that they failed to realize they'd overshot the airport by about 110 miles.
In the recent MIT report on driverless car technology, Missy Cummings and Jason Ryan of the school's Humans and Automation Lab write that drivers in autonomous or highly autonomous cars failed to react as quickly in emergency situations. "[A]t precisely the time when the automation needs assistance, the operator could not provide it and may actually have made the situation worse," they concluded.

People:
Chris Ploch - Mechanical Engineering
David Miller - Behavior / Interface Design
Yeo Joo - Just-in-time persuasion interface design, User Emotion, Human Computer Interaction and Human Vehicle Interaction
Features
Eye tracking SMI
Brain EEG
Glass Dash (programmable)
Toyota (Japan)
In January 2005, Toyota started a multi-million driving simulator project at Toyota's Higashi Fuji Technical Center in Shizuoka, Japan. They began to use their full-scale driving simulator in Spring 2008. The simulator is equipped with a full vehicle prototype and it uses hexapod developed by MTS, x and y motion base, motion actuators with a total system that provides 12 degrees of freedom. Domed cabin has height of 4,5 meters (almost 15 feets) and 7 meters in diameter (23 feets) that comes with a visual screen and system of projectors providing 360-degree visual stimuli. Toyota's driving simulator operates on a longitudinal plane of 35 meters (120 feets) and lateral plane of 20 meters (66 feets). This extended laboratory space provides realistic force cues.
Read an article in Telegraph
PSA Peugeot Citroën (France)
PSA Peugeot-Citroen started to develop driving simulators in 1995. Currently the group has two driving simulators: CAVE and SHERPA. The emphasis in CAVE was put on visual restitution. It can generate stereoscopic vision for 3D imaging and has 180 degrees lateral field of vision. The most interesting simulator in PSA labs is SHERPA, which has evolved since its creation in 1995. According to the PSA experts SHERPA provides very realistic vehicle dynamics. This is why it is used mainly for vehicle dynamics and ADASs. Steering Stability Program that was implemented in of Peugeot 207 RC (sport version of 207) was developed with SHERPA. Currently after series of modifications simulator is equipped with 1000 kg hexapod (Bosch Rexroth) and YX motion base (probably similar to Renault), and half-cab of Citroen C1. The simulator can generate maximum acceleration 5 m/s2. PSA has been developing its own simulation software for SHERPA.
Renault (France)
Renault has two driving simulators located in the Technical Center for Simulation, Guyancourt in France. First one is CARDS and second is called ULTIMATE. Both simulators can be considered as high-class simulators. However, ULTIMATE is the real high-end simulator from Renault.
CARDS is a full-scale simulator based on electromechanical platform (hexapod, 6 DOF). The system uses six PCs (3 GHz) and Barco 808s projectors to generate the front and rear view.
Renault ULTIMATE driving simulator in Guyancourt was built as a result of European research project (Eureka). It is aimed at studying driver-vehicle behavior. It has XY motion system, which is combined with a 6DOF platform. It uses 2700 ft2 lab space. In 2012 ULTIMATE was upgraded by VSimulation and Hahlbrock (they prepared some upgrades for Daimler simulators). Now it is equipped with 200 degrees projection screen and lightweight construction.

Dr. Andras Kemeny, the "godfather" of simulation in France, recently opened a second CAVE installation at Renault - 5 sided, stereo 4K resolution each, 19 projectors: Renault now has the best 3D and HD simulator with IRIS CAVE
Honda / Ohio State University
Partnership between Honda R&D Americas (Raymond, Ohio) and Ohio Supercomputer Center

article Oct 2012 - The new $1.3 million Ohio Sate University Driving Simulation Laboratory will be the most technologically sophisticated such lab in Ohio and will help researchers learn more about driver distraction and how to prevent it. The state-of-the-art 5,800 square-foot facility – a partnership between Ohio State, Honda R&D Americas, Inc., and the Ohio Supercomputer Center, opened its doors on October 18, 2012.
article Oct 2012 - The National Highway Traffic Safety Administration is expected to announce new guidelines this fall that aim to ensure that drivers don't become too distracted by entertainment and navigation systems in cars. For automakers, testing these systems in a driving simulator is required to ensure compliance with the new guidelines.
In addition to Ohio State, two other universities in the state will be involved in a consortium that will run the facility: the Wright State University Center of Excellence in Human-Centered Design and the Ohio University Driving Simulation Lab.
The lab will be of use to more than just engineering researchers. In one meeting to discuss possibilities for projects in the new lab, researchers from linguistics, neurology, psychology, speech and hearing science – as well as various engineering departments – Weisenberger indicated they all showed interest.
The lab will also allow researchers to study how special populations, such as teenagers and elderly, may differ from others in how they respond to different driving situations.

Simulator Website at OSU - PDF brochure
Conform with NHTSA Guidelines
Investigate Driving Tasks
Develop Flexible Scenarios
6DOF Moog 2000e motion platform
260° front-projection cylindrical edge-blended screen and three high-resolution projectors
RTI's SimCreator™ and SimVista™ software systems for controlling the system and creating driving scenarios, including a Motion Drive algorithm for motion base control and multibody dynamics editing software.
SmartEye Pro 3-camera eye-tracking system provides measures of gaze and head direction, eyelid opening, blink rate, and pupillometry
BIOPAC Systems MP150WSW wireless interfaces allow the measurement of blood pressure, ECG, respiration, GSR, and fNIR brain imaging
NHTSA Guideline compliant facility
Jan Weisenberger, senior associate vice president for research at The Ohio State University
Frank Paluch, senior vice president of Honda R&D America's Inc.
Thomas Kerwin, Operations Director (kerwin@osc.edu) 614-360-3357
TRL
more content needed here
NADS Iowa
more content needed here
University of Leeds
more content needed here
MIT AgeLab
more content needed here
Daimler
The World's Most Advanced Driving Simulator

In May of 1985, Daimler-Benz built its first in-house developed simulator, and in the intervening years, the automaker has been at the forefront of simulator technology. The latest addition is this 300-ton behemoth in Stuttgart, spanning over 24 feet – enough for any Benz to fit inside – and equipped with 40-foot tracks for horizontal and vertical motion, a 360-degree display fed by eight projectors and six hydraulic drive "elements" (i.e. legs) to simulate pitch, yaw and a variety of other movements.
The hexapod sim contains a fully-built vehicle, with data lines sending information 1,000 times a second to the bank of computers outside, and can simulate everything from country roads to downtown drives, allowing Mercedes' engineers to tune everything from suspension compression to braking systems, along with different drivetrains and NVH testing. Is the roar of the engine bouncing off the walls of a building and entering the cabin? They can increase the volume, pinpoint where the noise is intruding and hammer out a new seal in a few day's time.

Situated in the driver's seat of a full-size CLS, Benz's boffins flicked on the screens and let us go from a virtual drive through the countryside and into a small town. The sensations prove to be disconcerting but clinically accurate, with quick steering movements instantly translated into lateral force. Stamping on the brake pedal brought about the same kind of forward dive you'd expect on the road, and we were able to sample both early and late prototype suspension setups back-to-back to see how Mercedes engineered the system to balance comfort, compliance, control and sportiness.
The sim is used for both development and final product testing, with regular drivers coming inside to test the physical limits of a vehicle without the risk of injury or damage. So if you get a call from Mercedes asking you to drive its next generation of products, you could spend some time inside the world's most advanced driving simulator.
See where the Simulator building is on Google Maps
Sindelfingen
Started operation 2010
8 projectors, 360 degree screen
People

Dr. Eberhard Zeeb, Head of Driving Simulators Daimler AG
Dr. Thomas Weber, Member of the Board of Management responsible for Group Research and Head of Development
Dariu Gavrila Machine Perception Research Scientist Daimler
Andreas Wedel Perception R&D Daimler
Stefan Hahn Head of Environmental Perception Research Daimler
Jochen Hermann, director of driver-assistance systems at Mercedes
Uwe Franke Head of Visual Perception / Image Understanding Research Daimler (extensive list of publications)

12m rail for transverse or longitudinal movements
max 10 m/sec (36 km/h) sideways speed along the rail
car dynamics computed at 1000Hz
The Virtual Highway
Deep within the bowels of Mercedes' new $220 million testing facility in Stuttgart are five simulators. We'll be getting to the big boy of the bunch in a moment, but the Virtual Highway has a more direct line to Benz's production models.

Mercedes starts by driving a truck equipped with a brace of high-definition cameras and lasers down a particularly pock-marked road (the one we got the sample was a stretch of road in Los Angeles, CA). The data from the drive is downloaded, analyzed and incorporated into an Benz-developed computer program that's hooked up to the hydraulic platform pictured above. As the video plays back, each and every bump, imperfection and crease of the road is transmitted through the platform and into the butts of the testers. This allows Mercedes to virtually tune a suspension without leaving their cozy simulator facility. The engineers are adamant that this isn't designed to be a substitute for real-world testing – it's a supplement to gather data. So what if you used similar technology to modify a vehicle's suspension on the fly? Meet Magic Body Control.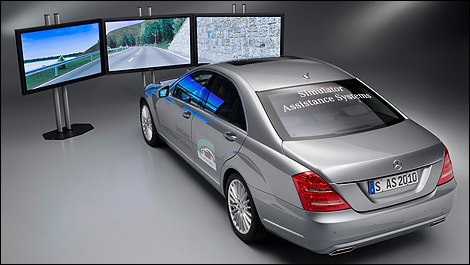 2010 - The Mercedes-Benz Experimental Safety Vehicle (ESF) is a research vehicle based on the new Mercedes-Benz S400 HYBRID, and it reveals what safety specialists are currently working on with a time horizon that extends well into the future.
The ESF is the first Experimental Safety Vehicle to be built by Mercedes-Benz since 1974. Like its historic predecessors, it illustrates trailblazing innovations in the field of safety, and makes the progress already achieved clearly visible. These amazing ideas include inflatable metallic sections which give more stability to structural components within fractions of a second, as well as a so-called "Braking Bag." This air bag housed within the vehicle floor is deployed when a crash is unavoidable, and it uses a friction coating to support the vehicle against the road surface.
BMW
BMW CarIT Gmbh - Munich and Ulm "Software is the key enabler for innovation"
Jnario - Jnario is a framework for behavior-driven development (BDD) that provides two domain-specific languages specifically designed for writing expressive and clutter-free tests for Java. Jnario Features is a language designed for writing business-readable high-level acceptance specifications. Jnario Specs is a language for writing concise low-level unit specifications. These two languages enable developers to use behavior specifications to guide software development.
Etch - an Apache Project
ConnMan - Managing internet connections within embedded devices running on the Linux operating system.
IVI Layer Management - Allowing features to render content in several layers and surfaces
Sphinx - An Eclipse project providing an extensible platform supporting integrated modeling tool environments.

Three research simulators at BMW's Research and Innovation Center (FIZ) have been equipped and calibrated with domeprojection.com dForm auto-alignment systems. We also provided the initial calibration of the visual display systems.
One simulator features a 7-channel projection system and a screen in the shape of a toroid. The other two simulators are equipped with one 3- and one 5-channel cylindrical display system.
At FIZ (Forschungs & Innovations Zentrum ?) in Munich over 7,000 engineers and scientists perform technology research and development for future vehicles of BMW.
Dynamic Driving Simulator at FIZ (BMW R&D Center)
Published on Feb 13, 2013 - Before BMW´s driving assistance systems become reality in the various models, they have to be tested. With the dynamic driving simulator experts can create virtual situations in daily life to check the functionality of these systems. This high-tech testing is necessary to guarantee the passenger´s safety on the road.
BMW Simulator Control Room
BMW Simulator projection geometry - does not use full 360, instead 2 for side mirrors (what about central rear view mirror ?)
BMW Simulator Eye Tracker software is same as at VW ERL
People

Michael Heimrath, Mgr Prjects ConnectedDrive @ BMW Research & Technology
Lutz Lorenz Dev Engineer Display and Control Concepts BMW Group Research & Technology

Autonomes Fahren: Bitte umschalten auf Autopilot!
...
Forscher von BMW ließen 2011 einen Prototypen über die A9 von München nach Ingolstadt fahren, der sich so kooperativ wie ein guter Autofahrer verhält. Beispielsweise wechselt er vom rechten auf den mittleren Fahrstreifen, wenn sich an einer Auffahrt ein anderes Fahrzeug einfädelt. Für die zentimetergenaue Lokalisierung fusioniert ein Rechner im Fahrzeug mehrere Datenquellen: Spur- und Landmarken, die von der Bordkamera erkannt werden, Positionsdaten der Satellitennavigation und schließlich Odometriedaten, die aus der Fahrzeugbewegung abgeleitet werden.

Auch wenn Datenbasis und Regelstrategie bereits weit vorangeschritten sind, gibt es noch eine Fülle technischer Herausforderungen. Eine der größten ist die zuverlässige Absicherung solcher Systeme. Ein hochautomatisiertes Auto, so rechnet Michael Heimrath von BMW vor, müsste 100 Mio. Testkilometer absolvieren, um alle denkbaren Konstellationen zu überprüfen. Offen ist zudem, wie bei hochautomatisierten Systemen die Verfügbarkeit des Fahrers überwacht werden soll, schließlich soll er nach Aufforderung das Lenkrad wieder in die eigenen Hände nehmen. "Wenn der Fahrer einschläft", erläutert Heimrath, "müssen wir das Fahrzeug sicher auf der rechten Spur zum Halten bringen."

Eine Idee dazu untersuchte Audi in Zusammenarbeit mit der Universität der Bundeswehr München auf abgesperrtem Gelände. Die Testpersonen sollten mit einem iPad während der Fahrt Musteraufgaben lösen, mussten allerdings eine im Head-up-Display an der Frontscheibe angezeigte, mit der Zeit sinkende Säule auf einem gewissen Niveau halten, indem sie rechtzeitig einen Schalter im Lenkstockhebel betätigten. Das Unterschreiten der Mindesthöhe führte zu einem Abschalten des Autopiloten. Da die Sinkgeschwindigkeit variierte, trat keine Gewöhnung auf. Das System wurde von der Mehrheit der Fahrer akzeptiert, bei der Bewertung zeigte sich jedoch eine hohe Standardabweichung, es traten also sehr unterschiedliche Meinungen auf.

…

Bei der Umfelderkennung setzt Google auf einen 360-Grad-Laserscanner, der auf dem Dach des Fahrzeugs angebracht ist und 1,5 Mio. Bildpunkte pro Sekunde erzeugt. "Nicht unbedingt eine serientaugliche Sensorik", gibt Urmson zu. Allerdings sähe Google das automatisierte Fahren ohnehin vorrangig als Informatikproblem – und das nähere sich einer Lösung.

An automobiltauglichen Sensoren, die Passanten sicher erkennen können, arbeitet die deutsche Automobilindustrie derzeit mit Hochdruck. Das erste Ziel lautet, eine automatische Notbremsung einleiten zu können, wenn ein Fußgänger unerwartet die Straße betritt.

Hersteller und Zulieferer verfolgen dabei unterschiedliche Strategien. Mercedes setzt auf eine Stereokamera, deren Bilder mit dem Datenreduktionsverfahren "Semi-global matching" so schnell ausgewertet werden, dass eine Notbremsung innerhalb von 150 ms eingeleitet werden kann. Audi entwickelt hingegen einen Photonenmischdetektor, der ein reflektiertes Lasersignal nicht nur nach Laufzeit (also Entfernung), sondern auch räumlich auflösen kann. Beide Technologien sollen schon 2013 als Teil eines neuen Fußgängerschutzsystems in Serie gehen.
…
BMW eDrive driving simulator

BMW Traffic Jam Finder :)
Ford Virttex
From "Inside Virttex, Ford's amazing driver distraction simulator", 1/8/2012:
Ford says it's the only automaker in the U.S. with a virtual reality simulator of this magnitude

NADS is only comparable in US
Europe has BMW, Mercedes

completed 2001 ($7M in 2001 dollars), upgrades since
Virttex (virtual test track experiment cockpit simulator)
24-foot dome with 45-megapixel, 360-degree projected image, 14 PCs
6 DOF, 0-20Hz movements (vs 0-5Hz for a flight sim)
12 ft travel sideways, 3 ft up and down, pitch roll +-20 degrees. Yaw +- 40 degrees
Dearborn, Michigan
Barco projectors 2011
Blue Newt Simulation Software of Michigan 2012, Quantum3D Independence IG 2009
People
Ford VIRTTEX Driving Simulator - Uploaded on Feb 29, 2012 - Ford's Mike Blommer shows us the VIRTTEX driving simulator that helps Ford study drivers to make Ford vehicles safer.
VIRTTEX Driving Simulator Walk Through & Behind the Scenes - Published on Feb 14, 2013 - Before taking cars out on the road driving simulators keep the driver safe and create an enviroment where companies like FORD can learn from a drivers behavior. We take a closer look at FORD's VIRTTEX driving simulator to learn about the technology that makes it seem like we're actually driving. FORD's VIRTTEX Driving Simulator is a pretty complex bit of technology, we take a closer look at how it works.
The Science Behind FORD's Driving Simulator & Sleep Drivers - Published on Feb 14, 2013 - FORDs driving simulator gives the American car company insight into what happens to sleepy drivers when they're behind the wheel for a little too long. Learn about the science behind the sleepy driver.
Ford Focus Electric Vehicle HMI Simulator
Ford Focus Electric Driving Simulator Narration 2012 - Uploaded on Oct 2, 2011 - Before the all-new Focus Electric hits the streets Ford engineers want to make sure the MyFord Touch(™) interactive display is easy to use and meets the need of potential owners, and they're having the customers voice their opinions with a driving simulator. The all-new Ford Focus Electric uses the high-tech driver interface to help drivers optimize range and experience the freedom of fuel-free driving.
Ford Focus Electric Driving Simulator b roll 2012
Also see:
ITS (Poland)
Driving Simulation Laboratory at Motor Transport Institute became fully operational in 2010 after it has successfully launched two driving simulators. The laboratory is equipped with state-of-the-art research instruments to study drivers' behavior in the simulated environment. Moreover, laboratory can collect different types of psychophysiological data and provide psychological assessment with reliable computerized tools. Interdisciplinary lab staff consists of highly trained transport engineers, psychologists, programmers and mechanical engineers.
Driving Simulation Laboratory provides research services to public & private sector aimed at studying driver behavior in simulated and real environment. Current research interests include: simulation methods to evaluate road design from the road user perspective, evaluation of in-vehicle Human Machine Interfaces (HMI), training methodologies for driving simulators and driver behavior profiling.
Motor Transport Institute (ITS) currently operates two high-class driving simulators:
Car simulator consists of a full sized and fully functional Opel Astra IV cabin, visual system and MOOG motion platform with six degrees of freedom. Additionally, mechanical stimuli (driver's seat/cabin vibrations) and sound effects are generated inside the cabin. Visual system uses set of four projectors, 2.5 m high cylindrical screen with 200 degrees field of vision and three LCD screens (mirrors).
AS1300 provides fully functional SCANIA truck cabin with specific features dedicated to heavy vehicles e.g. retarder. The cabin is based on the three-axis motion system developed by AutoSim. Truck simulator uses 4-channels visual system for front projection (180 degrees wide cylindrical screen, 1024 x 768 DLP) and four LCD mirrors. Truck dynamic model provides realistic motion cues and simulation of different surface conditions. The truck & bus simulators from AutoSim are usually operated by Driving Training Centers since these devices are certified for training according to EU-Directive 2003/59/EC. However, truck simulator at Motor Transport Instiute is currently used only for research.

AS1200-6 and AS1300 were delivered by AutoSim (Norway). The same company developed simulation engine SimWorld, which is the primary software platform for these simulators.
Related links (recent R&D projects):
VTI (Sweden)
VTI as one of the leading research organization in EU has three advanced driving simulators in Gothenborg (also one training simulator and rail simulator). These simulators were developed by VTI researchers in-house. VTI collaborates closely with Swedish automotive industry and currently it's focused on virtual prototyping and assessment in simulated environment.
The laboratory places:
SIM II – simulator with a motion system, which produces amplitude of 3,5 m and velocity of 3,5 m/s. It provides 120-degree frontal field of vision and the average resolution on screen is around 2,5 arc minutes per line pair for horizontal and 2,7 arc minute per line pair for vertical. The simulator uses Scania T112H cabin.
SIM III – this is a simulator uses Saab 9-3 cabin and it is equipped with 4DOF motion platform. It has 120 degrees of field vision displayed by three DLP projectors. Technical specifications of motion and linear systems are a little bit better than Sim II.
SIM IV – this is one of the most recent developments that were introduced by VTI in 2011. It's equipped with 9 projectors and it provides 180 degrees field of vision. It has exchangeable cabin (volvo truck or car)
Interesting article about hardware-in-the-loop real time simulation in VTI driving simulators. Article
Recently VTI developed and implemented new models (tyre/road vibrations, OpenDRIVE extensions etc.) in the VTI driving simulators. See full report about the implementation

Neuro + Psychophysiological + Eye-tracking devices
Driving Simulator Software
Aimed at OEMs, Tier1s, University or Government researchers etc. Expensive, mostly closed source, requires lots of care and feeding, usually runs on multiple screens and computers, supports all kind of esoteric display, input and output hardware (like motion platforms !)
I only bothered to list the higher end of the pro sim market here and OpenDS since it is also Open Source.
KMW (Germany)
Krauss-Maffei Wegmann simulators originated from the military simulation technologies. These simulators are usually used in training process of professional/military drivers. Key elements of their simulators include:
replication of original cabin
Co-driver Training
Electrical 6DOF motion system
MILCIG multi-channel COTS PC-based visual system
Easy to use Instructor/Operator station for conducting and managing training
For the software development KMW cooperates also with PRESAGIS

An example of Driving Simulator delivered by the KMW distributor in Poland to the professional drivers training center.
Vires (Germany)
Website |

Toolchain for Driving Simulation

VIRES offers a complete toolchain for driving simulation applications: starting from the definition of road and railroad networks with our road designer ROD®, we provide a consistent data flow via industry standard file formats into our applications for the scenario definition, traffic simulation and image generation.

Click here to download the product data sheet (PDF, 33 kB).
Oktal SCANeR (France)
Website | videos $10K for academic research
OpenDS (Germany)
Another interesting alternative to Unity Driving Simulator is OpenDS, a free, open-source driving simulator software for R&D in the automotive industry. Currently OpenDS has about 400 users around the world (simulator researchers). OpenDS originated from the EU FP7 project "GetHomeSafe", which is being run by a consortium: DFKI (German Rsearch Center for Artificial Intelligence), IBM and Daimler. First user convention was held in Eindhoven/Netherlands (October 2013). The further development of the OpenDS will depend on the organization of the community. OpenDS architecture is based on:
JME (jMonkey Engine)
Lightweight Java Game Library
jBullet (Bullet Physics library) – doesn't provide the most realistic vehicle dynamics but sufficient for HMI testing
See OpenDS architecture below – it consists of two main components 1) Simulator and 2) Driving analyzer for data recording and visualistation

Most important features of OpenDS:
CAN and Game Controllers support
Traffic light simulation (possibility to integrate it with SUMO)
Traffic simulation, vehicles can autonomously move and react to traffic conditions (although vehicles for now are manually configurable way-point by way-point)
Event-based control of all road objects
Different weather conditions
XML-based high-level configuration (for touching the source code Java experience is needed)

OpenDS is dedicated to the HMI studies. The initial development included:
integration of IVIS devices that can be presented as displays (e.g. tablets) like the traffic lights information and simple navigation features.
Ready to go standardized driving tasks like lane change task or ConTRe task and 3VPT to evaluate automotive UI

Future releases should include:
OpenDS-Exporter for CityEngine so it's easy to run exported scene without manual post-processing (model data and semantic information). See CityEngine capabilities here
More developments for high-class simulators (visual channels for external LCD mirrors, motion platform)
Road network's logic OpenDRIVE
NADS (USA)
Realtime Technology Inc (USA)
SimCreator, SimVista for dynamics
Sensor Simulation
Please see the Sensor Simulation page on advanced simulation topics and how to do automated testing of state of the art driver assistance systems and sensors.
Driving Games
Aimed at end user, $50, runs on a PC type of thing. Most will interface with G27 steering wheel set & others, some will allow head tracking via TrackIR. Some will also allow 3rd party "mods", for example new cars, maps or scenarios.
Euro Truck Simulator 2 / Scania Truck Simulator (Germany)
Best looking (even for Pro sims maybe) driving sim software. Bonus: integrates with TrackIR head tracker
also working on Euro Coach Simulator
Alarm für Cobra 11 (Germany)
Mostly a chase game, but graphics and dynamics still quite good.
City Car Driving (Russia)
looks reasonably good, software is very hacky (acc to extension writers who try to build new cars for it)
OMSI Bus Simulator
Transportando o Brazil (Brazil)
more links
Simulator Game Mods: get your load of pictures, news, links to Truck, bus, coach, farming sims.
SpinTires a successful Kickstarter campaign to develop a novel driving simulator that physically simulates mud & terrain deformations (tire tracks, ruts etc.)
Example of a SpinTires truck laboring through the mud